Heath Ritenour's Career

Health Ritenour is no stranger to success. Growing up the son of hardworking insurance industry entrepreneurs John and Valli Ritenour, Heath was raised with a steadfast work ethic and immersed in industry insights at a young age. By maintaining an authentic voice for agents and clients alike, Heath followed his passions toward success, not just for himself or his business but for the insurance industry as a whole.
An Early Start
Before graduating from Lake Brantley High School, Heath was awarded a football scholarship to Liberty University, where he studied business administration. During the summer of 1996, Heath began interning at his father's insurance company, Insurance Office of Florida (IOF), where he learned the ins and outs of the industry.
As he learned the business and proved himself a natural producer, Heath was offered higher positions within the company, now known as Insurance Office of America (IOA). Through determination and perseverance, Heath steadily grew to prominence, eventually becoming CEO in 2007 and chairman following his father's retirement in 2019.
Career Accomplishments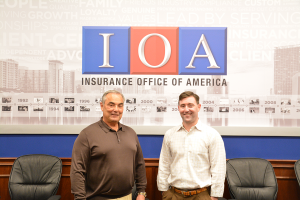 Currently serving as chairman and CEO of IOA, Heath has helped expand the business to become the 13th largest privately held insurance company in the country. He strives for innovation and believes in having a unique perspective in an "industry of sameness."
Heath Ritenour continues to grow in his practice and is open to new ideas and methods. He maintains his property and casualty general lines (2-20) and health and life (2-15) insurance licenses and continues to grow his book of business. His efforts in the industry were have been recognized. The Orlando Business Journal named him a CEO of the Year Honoree in 2018, and he was named to the 2020 Business Insurance Hot 100 list.
Community Involvement
Heath is focused on giving back to his community, where he holds several different roles. Not only is he the IOA Foundation president, but he also plays an active role as a board member with Cogent Bank.
Because faith and fellowship are incredibly important to his journey, Heath strives to give back to his church and various schools and hospitals in his community. As an Elder, Heath regularly devotes his time to Grace Church of Longwood where he is a member. In the past, Heath has served as a board member for the Arnold Palmer Medical Center Foundation. Other memberships included serving as a board member for the Foundation for Seminole State College and Seminole County Public Schools.
Personal Triumphs
Unexpected news changed Heath's perspective in 2015 when he was diagnosed with cancer. He did not want this news to hurt his business or relationships, so he continued to build the company and follow his faith. Heath firmly believes in serving IOA's clients passionately, meticulously, and resourcefully, all of which he exemplified even during difficult times.
Not just an industry leader,
Heath Ritenour
is a devoted husband, father, son, and man of faith who strives to bring about positive change within his community. When he is not implementing
award-winning business practices
or actively helping clients, Heath enjoys spending time with his family, working out, and cheering on the
Pittsburgh Steelers
.